REBOOT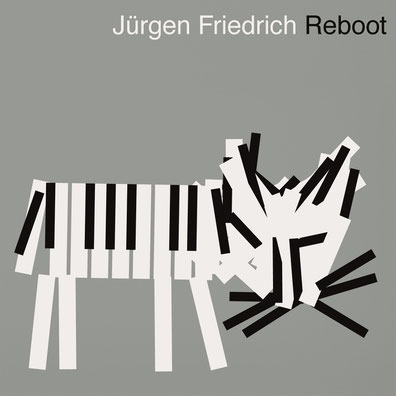 1. Gelog Park Blues

2. Stir
3. Invention
4. For A
5. Klavierstück op.11/1
6. Bergs
7. Three For D`reen
8. Stepping Stones 
REBOOT
Jürgen Friedrich - piano
David Helm - bass
Fabian Arends - drums
nWog Records / Edel
What matters is how they create a meta-harmonic, pan-rhythmic togetherness, connecting seemingly unconnected pulses into a musical whole. Thus, the pieces border closely with New Music, refuse complaisance and are able to act fluid and challenging at the same time. Despite its tendency toward creative abstraction, Reboot has the power to sound very concrete. 
Ralf Dombrowski, jazzthing
Friedrich continues along the path that a Paul Bley or a Bob Degen explored with the later ECM boss Manfred Eicher on bass. The demand for agogics, also in jazz, becomes blissful reality here: fascinating, sensuous sonorities of the piano tangle and disentangle themselves with the highest tonal sensitivity of the drums and songful warm-sounding bass lines.
Thomas Fitterling, Rondo
In all balancing acts between the tonal and atonal, Reboot is still ultimately a "jazz album," and it's a very strong one, mind you! Unerringly, it accesses art music of the 20th century successfully, namely an invention of Witold Lutoslawski and Arnold Schoenberg's Piano Pieces, Op 11/1.
Stefan Pieper, nrwjazz.net
From the first note on, they act with perfect empathy and communicate with instinct, sensitivity and full of passion in a unique way. Never before have the limits of traditional jazz been more excitingly blurred than on Reboot.
Franz X.A. Zipperer, Jazzthetik
The trio breathes life into the music and sometimes seems to stand in wonder at what emerges. Piano trio jazz can be so exciting.
Thorsten Meyer, Jazzpodium
Was zählt, ist metaharmonisches, panrhythmisches Miteinander, das scheinbar unverknüpft nebeneinander agierende Impulse zu einem musikalischen Ganzen verbindet. Damit liegen die Stücke nahe an der Grenze zur Neuen Musik, verweigern sich der Gefälligkeit und schaffen es zugleich, fluid und herausfordernd zu wirken. ,,Reboot" hat die Kraft, trotz Tendenz zur gestalterischen Abstraktion sehr konkret zu klingen. 
Ralf Dombrowski, Jazzthing
Friedrich geht die Wege weiter, die einst ein Paul Bley oder ein Bob Degen mit dem späteren ECM-Chef Manfred Eicher am Bass erkundet haben. Die Forderung nach Agogik auch im Jazz wird hier beglückende Wirklichkeit: Faszinierend ver- und entflechten sich sinnliche Klanglichkeit des Klaviers, höchste Klangsensibilität des Schlagzeugs und sanghaft warmtönende Basslinien. 
Thomas Fitterling, Rondo
Bei allen Gratwanderungen zwischen tonaler und atonaler Auffassung ist Reboot doch letztlich ein "Jazzalbum", und zwar ein ganz starkes wohlgemerkt ! Treffsicher gelingen die Zugriffe auf Kunstmusik des 20. Jahrhunderts, nämlich auf eine Invention von Witold Lutoslawski sowie Arnold Schönbergs Klavierstück opus 11/1.
Stefan Pieper, nrwjazz.net
Von der ersten Note an agieren sie mit perfektem Einfühlungsvermögen und kommunizieren traumwandlerisch, sensibel und voller Leidenschaft auf eine ganz eigene Art. Nie sind die Grenzen des traditionellen Jazz spannender verwischt worden als auf Reboot.
Franz X.A. Zipperer, Jazzthetik
Das Trio haucht allem gemeinsam Atem ein, und scheint manchmal selbst staunend vor dem zu stehen, was dabei herauskommt. Pianotrio-Jazz kann so spannend sein. 
Thorsten Meyer, Jazzpodium